We all need a little comfort from time to time ...especially when we're not feeling well. That's where Olbas is unique. Olbas helps you feel better ...naturally!
There are 8 different Olbas Remedies that each soothe you in a unique way:
Olbas Oil
Olbas Oil originated in Basel, Switzerland over 100 years ago, and continues to be a European and worldwide favorite. The natural essential oils in Olbas are extracted from six medicinal herbs, which have been the basis of healing in cultures around the world for centuries. These oils are carefully blended by Swiss herbalists, making the Olbas formula truly unique. The synergistic combination of these six essential oils provides amazing sensations to your body at multiple levels.
Olbas Inhaler
Natural Olbas vapors provide a pleasant, refreshing, and cooling sensation to your nasal passages. Especially beneficial during times of seasonal discomfort, low humidity and other unwelcome nasal encounters. Fast-acting, penetrating vapors provide an immediate, fresh, clean feeling in the nose, sinuses and lungs.
Olbas Pastilles
Olbas Pastilles are maximum strength cough suppressant lozenges that have powerful vapor action. They provide instant, cool soothing relief for sore throats and help you fight coughs. Powerful, cooling vapors help to make your nasal passages feel clearer, too!
Olbas Analgesic Salve
Rub on this soothing cream and you'll feel deep, penetrating relief for those minor aches and pains in muscles and joints. Get fast relief from minor pain due to: Arthritis, Backache, Sore Muscles, and Sunburn. The greaseless formula quickly absorbs into the skin, providing warm, long-lasting, pain relief.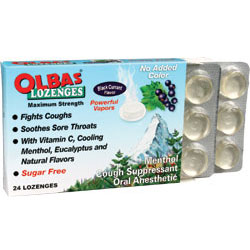 Olbas Lozenges
Olbas Lozenges give you maximum strength cough suppressant action that also makes your nasal passages feel clearer. These tasty lozenges help you fight coughs due to minor throat and bronchial irritation that often occurs when you have a cold, or when you inhale an irritant, like smoke. They also have a natural anesthetic action that provides instant, cool, soothing relief for sore throat.
Olbas Herbal Bath
Olbas Herbal Bath is a delightful, therapeutic and fragrant bath liquid from Switzerland. It soothes and relaxes aching bodies as it tingles and invigorates all the body's senses. Marvelous after a hard day of work, sports or everyday tension.
Olbas Cough Syrup
Five herbal extracts, six essential oils and wildflower honey are masterfully blended into this highly effective yet pleasant tasting herbal formula that helps support healthy bronchial activity. Provides natural antioxidants that support the immune system, easing the stresses of winter's insults and environmental pollutants.*
Olbas Herbal Tea
Discover the delicious taste and healthful benefits of this 100% natural herbal tea. Carefully blended in Switzerland, Olbas Instant Herbal Tea is a mixture of 20 soothing herbs harvested from the earth's finest crops, enhanced with pure essential oils that make Olbas Remedies famous around the world.
* These statements have not been evaluated by the Food and Drug Administration. This product is not intended to diagnose, treat, cure, or prevent any disease.